The might Peter Cresswell has been good enough to (re)publish my short essay on the life and work of sculptress Harriet Frishmuth. An excerpt,
Harriet Whitney Frishmuth (1880-1980) is relatively unknown today, yet during her active period she was one of the most widely known and highly admired artists of the time. Her joyous depiction of the female nude, usually in dynamic poses drawn from dance movements, is the epitome of romantic realism in sculpture.
Read the rest,
here
.
I'll just add a little personal anecdote here. I first became acquainted with Frishmuth's work by seeing The Vine in the sculpture garden at UCLA as an undergraduate. It wasn't in the best shape, but it was manna from heaven to me, especially under the circumstances.
Then, as now, the university was dominated by postmodern Leftists — at the time mostly explicit communists. (It was still fashionable then, at least on campus, to tell the plain truth about one's political philosophy.) Not surprisingly, the sculpture garden was filled with the most revolting 'modern' dreck, mostly either inchoate lumps of metal or chaotic piles of metal pipes posing as art.
Frishmuth's piece stood out like a healthy body amid a lot of diseased sore thumbs.
Later, I learned The Metropolitan Museum in New York had a version in their American Wing. When I lived in Manhattan I'd spend entire Saturdays strolling through the collection, and I always took considerable time drinking in The Vine. (A big chunk of the rest was reserved for the Sargents (especially
Mr. And Mrs. Phelps Stokes
) and Vermeer's
Girl With a Pearl Earring
, along with Gerome's
Pygmalion and Galatea
and a few others.)
This story is apropos nothing in particular, except to say that art helped saved my soul as a young man. It still does today. Whenever the insanity of the world we live in becomes overbearing, a few minutes or hours with some of the treasures of the past (and a precious few in the present) helps me recover my deep sense that life is good.
Take a long look through
the works at the Metropolitan
and it may do the same for you.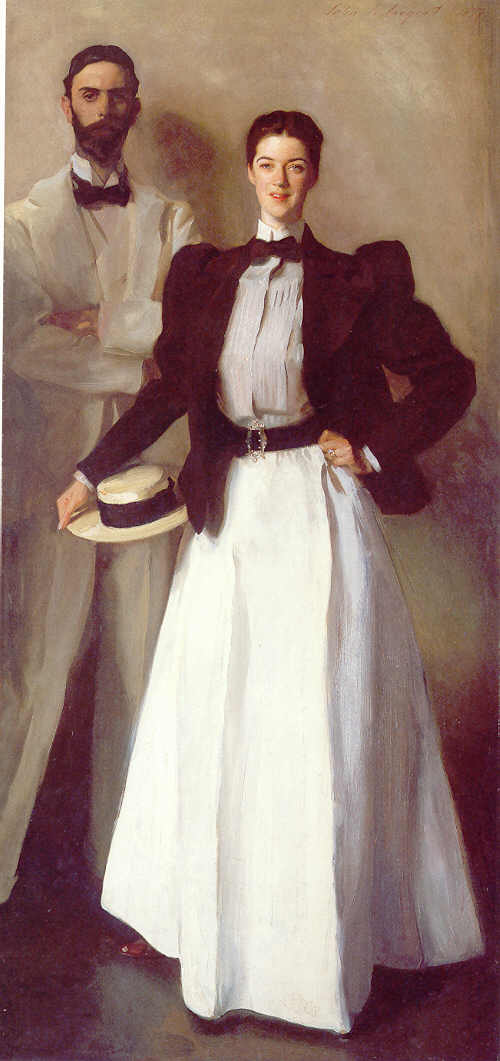 Mr. and Mrs. Phelps Stokes, 1897
Pygmalion and Galatea, 1890